Despite the unseasonably mild weather of late, these days between Halloween & Bonfire Night always feel special. Here's a lovely seasonal recipe from Thomasina Miers of The Guardian. Serve with sparklers!
Autumnal slaw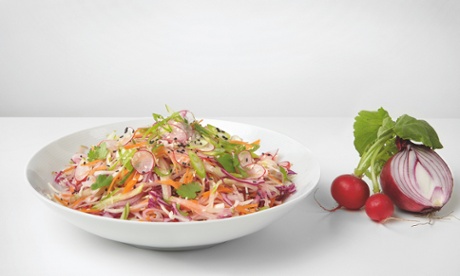 We make a slaw similar to this at DF/Mexico, our new restaurant in east London. The sweet sharpness of the apples makes it very moreish, and it is also exceptionally pretty. When I'm not eating it out under the stars and fireworks, I love it with grilled chicken and lots of mayo on the side.
2 Granny Smith apples
2 carrots, peeled
½ small red cabbage
¼ small white cabbage
½ bunch radishes
½ small red onion
3 spring onions
2 tsp white sesame seeds
1 tsp black sesame seeds (optional)
1 handful coriander leaves, chopped
Salt and freshly ground black pepper
For the dressing
The juice of 1-2 limes
2 tbsp cider vinegar
3 tbsp extra-virgin olive oil
1 tsp caster sugar
Wash the apples, peel the carrots and coarsely grate both into a large bowl, avoiding the apple core. If you have a mandolin, use it to slice the cabbages, radishes and red onions wafer thin; otherwise use a sharp knife to cut them as thinly as possible. (If you cut the vegetables too thickly, the salad will taste quite coarse, crunchy in an uncomfortable way and the flavours won't get a chance to shine through.) Top and tail the spring onions, then slice very thinly. Toast the sesame seeds.
Toss the whole lot with the coriander leaves and the dressing ingredients, seasoning generously. It should taste quite sharp, vivid and bright, but by all means add extra oil or a dash of mayonnaise if you prefer a salad with more creaminess. And if you like heat, there's nothing to stop you adding a touch of hot sauce, too.